The difference between an Index Fund (ETF) and a Mutual Fund
Target Retirement 2050 Fund (Investor Shares) – VFIFX
Strategic Equity Fund (Investor Shares) – VSEQX
Total International Stock Index Fund (Investor Shares) – VGTSX
31 Passive Income Ideas To Get You Off The Hamster Wheel
12 Real Differences Between a Rich Mindset vs. a Poor Mindset
16 Realistic Ways to Make One Million Dollars
How to Ask For a Raise Like a Boss and Get Paid What You Deserve
More Popular
A white glove turn-key rental property marketplace.
The best small business payroll system. Period.
The largest WordPress managed hosting platform. We are hosted with them.
More Tools and Reviews
Learn How to Start and Monetize a Blog that Earns over $400k a year
21 Remarkable Personal Website Examples to Free Your Imagination
How To Make Money Online: Proven Strategies to Kickstart Your Cash Flow
Freelance Writing: How to Get Started Earning
What You Need to Create a Simple One Page Business Plan
LLC vs S Corporation: The Amazing Tax Benefits Of Having a Business
QuickBooks For The Self-Employed: Track Expenses, Invoices & Optimize Taxes (Like A Champ)
How To Quit Your Job And Actually Start A Business
The Hustlers Guide to Understanding Freelance Taxes
More on Business Building
Investment Property 101 – Part One: Are You Ready To Be A Landlord?
Investment Property 101 – Part Two: The Math Behind Investing
Investment Property 101 – Part Three: The Power of Leverage
Investment Property 101 -Part Four: Forming A Real Estate Team
Understanding and Calculating Cap Rate For Rental Properties
More on Real Estate Investing
62 Proven Strategies on How to Make Money ($100+ fast)
Cha Ching! We Found the Easiest Ways to Get Free Money
Get Hustling: 102 Side Hustle Ideas You Can Start Now
There Are Few Things In Life As Beautiful As Residual Income
How to Make Extra Money Renting Your Home Through Airbnb
More on Making Extra Cash
The Cost of Money – Why You Should Refinance Your Debt
Why Am I Broke? 15 Reasons Why and How To Fix Them
Snowballing vs. Stacking: Which Should You Use to Get Out of Debt
What is APR? Understanding Exactly How APR Works
More Popular
They search all possible loan sources to get you the best refinancing rate.
If you are badly in debt, they will negotiate with your creditors on your behalf to discharge some of your debt.
More Tools and Reviews
Debt Relief For Dummies: How to Easily Pay Off Your Debt
The Importance of Good Credit and How to Take Advantage
Our Complete Guide To Debt Consolidation Loans
How Peer to Peer Lending Works For Borrowers And Investors
What is Bankruptcy? Your Complete Guide to Filing For Bankruptcy
More on Destroying Your Debt
The Importance of Good Credit and How to Take Advantage
How to Successfully Fix Bad Credit Once And For All
Protecting Yourself From Credit Card Fraud and Identity Theft
Here Are The Best First Credit Cards To Start Building Credit
Can Bad Credit Actually Keep You From Getting A Job?
Understand Statement Balance vs. Current Balance To Avoid Fees and Penalties
More on Improving Your Credit Score
Is Buying a House a Good Investment? It Depends…
Rent vs Buy? That is the question: Figuring Out What Option is Best for You
Home Equity Loans: A No B.S. Guide to Securing One (The Right Way)
First Time Buyer? What You Need To Know Before Buying a House
More on Home and Mortgages
Where To Get The Best Refinance Rates On Your Student Loans
Student Loan Forgiveness: The Complete 2018 Guide
How to Pay Off Student Loans Before Graduation
More on Student Loans
21 Of The Best Educational Podcasts To Listen To Every Week
28 Tax Deductions You Didnt Know You Could Write Off
Average Net Worth By Age: How Do You Stack Up?
What Exactly Does Renters Insurance Cover and Do I Need It?
Must Read Personal Finance Books You Should Add to Your Reading List
The Easiest Way to Practice Travel Hacking with Credit Cards
More Popular
The most advanced net worth and budget managing software.
Excellent accounting software for self-employed entrepreneurs.
Platform to buy green power and become carbon neutral.
A checking account with no ATM-fees and 2% interest.
Excellent accounting software for small businesses.
More Tools and Reviews
26 Creative Things To Do For Free on Saturday Night
Lets Go Thrifting! The Ultimate Guide To Thrift Store Success
How to Save Money: A Monthly Saving Plan That Makes Saving Money Easy
Money Habits That Are Keeping Your Wallet Empty and How to Fix Them
More on Lowering Expenses and Budgeting
Quicken Alternatives: 9 Better Ways to Manage Your Money
Its Never Too Early To Start Retirement Planning
Everything You Need to Know About 401K Loans and When to Use Them
More on Retirement Planning
How Money Inequality Can Hurt Your Relationship
Fun Cheap Date Ideas No Matter Where You Live
Getting Financially Naked With The Broke Millennial
How To Turn Your Family Into A Profitable Business With Natali Morris
Financial Infidelity Can Be Just As Devastating as Sexual Infidelity
More on Money and Relationships
The 8 Best Vanguard Funds That You Should Buy
How To Create A Passive Income Stream With REIT Investing
Acorns vs Betterment vs Wealthfront: Epic Robo-Advisor Battle
Bounce Back From a Market Correction With an Opportunity Fund
A Beginners Investment Strategy – The Ultimate Blueprint
Recession Fire Drill: $250 Trillion World Debt Edition
More Popular
The largest and most full-featured automated financial advisor.
Robo-Advisor with the ability to borrow against your investments.
A diversified real estate investing platform.
A free portfolio management tool for DIY investors.
More Tools and Reviews
Investing for Beginners 101: What Is Investing and Why It Matters?
How to Become a Millionaire and Get Rich the Right Way
Crush Your Investing Goals With A Lazy Portfolio
More on Getting Started Investing
Dollar Cost Averaging: Put Your Money on Autopilot
How to Calculate Opportunity Cost With Every Choice You Make
The Scariest 1%: The Impact of Fees in the Long Term
Invest or Pay Off Debt? That is the Question.
More on Investing Fundamentals
The Best Investing Apps to Guide You to Financial Independence
What You Need To Do Now To Achieve Early Retirement
The Best IRA Accounts for Your Retirement Plan
The Roth IRA: Optimize Your Retirement Savings by Knowing the Rules
The All Weather Portfolio and The Golden Butterfly
More on Retirement and FI
Roll Overs, Horse Races and Backdoor Roth IRA Strategys
Advanced IRA Strategies with the Mad Fientist
Using Tax-Loss Harvesting to Improve Your Returns
What are Dividends? How to Become a Dividend Aristocrat
How The Current Economy is Affecting Your Wallet
The 8 Best Vanguard Funds That You Should Buy
The 8 Best Vanguard Funds That You Should Buy
The difference between an Index Fund (ETF) and a Mutual Fund
Target Retirement 2050 Fund (Investor Shares) VFIFX
REIT Index Fund (Admiral Shares) VGSLX
Growth Index Fund (Admiral Shares)  VIGAX
Strategic Equity Fund (Investor Shares)  VSEQX
Total International Stock Index Fund (Investor Shares)  VGTSX
Were big fans of Vanguard, but admittedly, investing in Vanguard funds is a bit more complicated than using a Robo Advisor.  In this article, we break down what we think of Vanguards 8 best funds while balancing both performance and cost.
If youre looking for a deeper dive into our logic as well as some colorful commentary than check out the podcast episode we did on this:
Before we jump in, its important to mention why we are focusing so heavily on fees here.Due to their exponential nature, fees ofjust 1%can cause you to lose up to 25% of your earnings.Thats pretty horrendous and often what turns investors on to Vanguard in the first place.
I also highly suggest you check the fees on your accounts via the freePersonal Capital fee analyzer.In addition to running simulations, the analyzer pinpoints all of the overly fee-hungry funds across your accounts retirement or otherwise.
First, lets quickly discuss what anIndex Fund (ETF)and aMutual Fundare. Who better to ask thenVanguardthemselves?
An ETF is a collection (or basket) of tens, hundreds, or sometimes thousands ofstocksorbondsin a single fund.
If youve ever owned a mutual fundparticularly anindex fundthen owning an ETF will feel familiar because it has the same built-indiversificationand low costs.
AMutual Fundis very similar to an ETF with one crucial difference:
You can set up automatic investments and withdrawals into and out of mutual funds based on your preferences.
In other words, if you want toautomate your investing, then you use aMutual Fund. If you wantcheaper fees over time and dont mindmaking contributions every month, then you should choose anETF. I use ETFs because I dont mind making investments manually and fees are the worst.
We often get asked how much you need to invest in Vanguard. If youre investing in an ETF, then all you need is $1. If youre investing in a Vanguard Mutual Fund, then the minimum initial investment is between $1,000 and $3,000.
This ETF is Vanguards flagship fund and in our opinion, their best. Its a blend of Large, Mid and Small cap companies in the US. Its thelowest feeweve ever seen on a fund, and its mostly because the fund tracks a few smaller indexes allowing it to belargely automated.
Often when people mention that they invested in Vanguard, they are referring to this fund. Since92%+ of fund managers cant even beat this, Id be very skeptical if anyone suggested they can perform better after-fees than this fund.Even Warren Buffet agrees. Of course, it would be shrewd to invest in more than just VTI. Its impressive, butits not all things.
This fund is alifecycle fund, so it starts out with most stocks and slowly tapers into bonds over time. The point is you take on risk now while youre young and slowly reduce risk as you reach retirement age, so big market swings dont wipe out your retirement money.
While this fund isnt their best regarding the fee, it covers a much-needed gap in most peoples portfolio. As you know, were big fans ofbuy and hold, and this fund fits in there perfectly.
The number in the fund name, like 2050, corresponds to your typicalretirementdate usually, thats when youre 59 1/2.We often find ourselves picking funds with dates well past typical retirement age, so we get something a bit more growth-focused early on.
This fund was the industrys first for individual investors. Invest in 500 of thebiggest, baddestcompanies based in the US. By definition, this fund is filled with the best Large Cap companies, and since it focuses on the biggest companies in the US, its the closest to tracking the US economy.
Why own a property and rent it when your money gets stuck in the home, and there is so much work to be done? Instead, invest in a REIT and takerental profit and liquidity. This index fund is not just a REIT but afund of many REITs, so youre heavily diversified in the rental game.
Note:You wont find much yield here which is a bit of a drag considering real estate is a solid income play. As a replacement for the income portion of your portfolio, we recommendFundrise.Currently, their yield is2.196xthat of the Vanguard REIT.
Compared to VGSLX, Fundrise sticks to mid-size deals overlooked by huge funds and as a result, provides a markedly higher return. You can also opt to concentrate on income or appreciation focused funds.
With the Growth Index, Vanguard pickshigh-growth companiesthat will knock it out of the park for you.Its a bit riskier, but the returns are solid.
Even though the focus is on high growth companies, the fund follows abuy and hold approachwhere once they locate a stable company they stay invested in them for a while.
Any well-balanced portfolio hasbondsin it. Theyre much less sexy than stocks but are also much less risky. When youre young, 10% of your portfolio should be in something similar to BND, and as you get older, youll increase that percentage significantly. All the bonds that are in this fund are investment grade, and you should aim to hold this fund in the medium to long term based on its contents.
In preparation for market corrections or as we see them, investment opportunities, we tend to hold more bonds.  Since long-term bond funds, rose ~20% in price in 2008 we see this as a win-win.
Since bonds tend to do better when the stock market is doing poorly, we want ourOpportunity Fundsto be full of them.
We recommend keeping your Opportunity Fund in aSmart Saveraccount. Its roughly 80% US Treasuries and 20% long-term bonds. The accounts return often handily beats the highest-yielding savings accounts of the moment.
Like the Growth Index fund but smaller companies, potentially higher growth and a large portion of the funds composition is selected by a computer. Thefee is the highesthere because proportionately the most amount of work goes into running this fund. 0.29% isnt a big fee by a long shot, but I do think its important to note.
Also, again, this ones theriskiestof the bunch. Of your Vanguard investments,we wouldnt recommend making this one more than 10% of the total amount you invest.
Similar in approach to our 1 choice, VTI, onlythis fund focuses only on companies outside the US. The fund covers both developed and emerging markets.
Its pretty volatile, so we keep it as a small portion of our portfolio to help offset our heavy US exposure.
Manage your cash and optimize your investments in one place.WithPersonal Capitalyou can analyze your 401k to better diversify your holdings and reduce fees. I had no idea I was paying over 1% of my assets in fees every year but their help I was able to get it down below 0.3%.
Once you have all of your accounts linked, you can also leverage theirRetirement Plannerto plot out exactly what your retirement would look like. Using a Monte Carlo simulation, they determine how likely it is that youll reach the level of income in retirement that youre hoping for.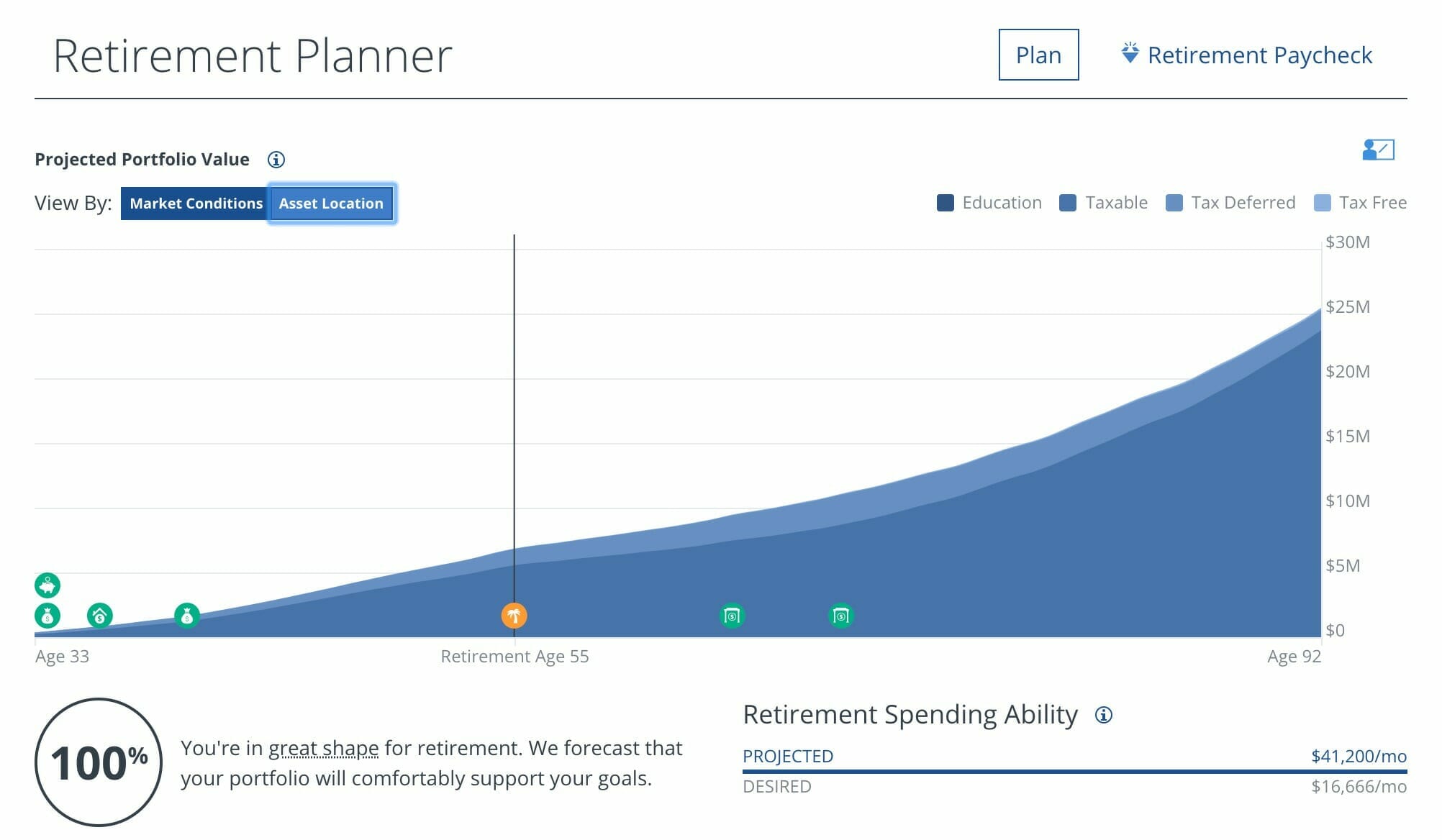 Ive been using Personal Capital since 2013, and I havent found a better free online tool for building and managing wealth.
Vanguard created a short list of their funds called the Vanguard Select Funds. One interesting thing about the list is how they determine what funds get on it:
The Vanguard Portfolio Review Department evaluates our low-cost fund lineup on an ongoing basis to determine the funds selected. This in-house team of investment professionals evaluates the funds using a proprietary screening process and criteria. Vanguard Select Funds
So, basically, theyre hand-picked using voodoo. I will say that a lot of their most expensive funds (where they can make the most money) are on that list like theWindsor IIwhos fee is 0.34%.
Its worth mentioning that most of the funds on our list are on their list with the exception that we excluded the high-cost funds. There are a billion studies that show there is no correlation between a high cost and a high return. Thats why we focus on shooting for the average on the show, easily thebest bang for your buck given the risk.
A Beginners Investment Strategy The Ultimate Blueprint
Deciding Where To Invest Money Doesnt Have To Be Hard
Get in the Drivers Seat of Your Financial Future: Personal Capital Review
How To Create A Passive Income Stream With REIT Investing
Subscribe and have your financial mind blown.